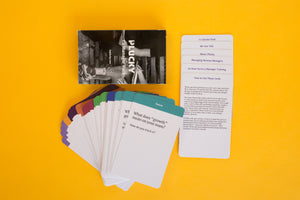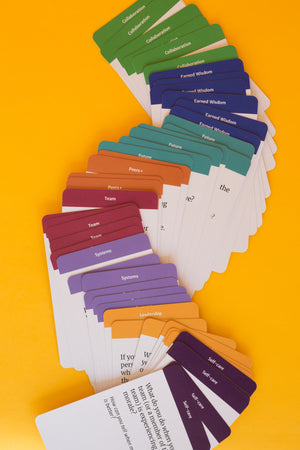 The Plucky 1:1 Manager Pack
If you're managing managers, every 1:1 meeting you have has the potential for wide, ripple effects across the company. But we get it - you're busy. You're running from meeting to meeting, trying to keep your head on straight.
Since we launched the original 1:1 Starter Pack, we've seen folks get better at asking deeper questions to individuals. But managers have a wider scope to cover in their own 1:1s. How's the team? How's the feud between departments? And, manager, how are you? 
These cards will help you empower, motivate and coach the managers who report to you. Through them, you will model listening, build strategy for team dynamics and offer support. 
After all, strong managers are led by strong management. These cards will help you get there.


Read more about the Manager Pack backstory here.
48 cards, each with a powerful launching question
8 topics: Team, Systems, Leadership, Self-care, Collaboration, Earned Wisdom, Future, Peers+
High-contrast, full-bleed, oversized

 

card stock
Followups

 

for each card: dig deeper into each question 

 
For bulk pricing, email: shop@beplucky.com
Note: Additional duties/taxes may apply on international orders. Customer will be responsible for these fees.