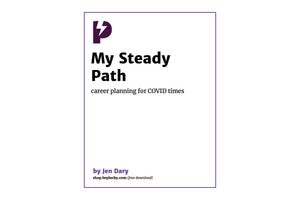 My Steady Path: career planning for COVID times
Okay. Okay. *Breathe*
2020 is not what you planned. Whether you had career intentions or not, everything has been disrupted. This short guide is designed to walk you through trashing your original 2020 plans and processing some of your grief. It's also going to help you reframe the purpose of work right now and reflect on how you want to remember this time.
Enter your details and we'll get you downloading in a jiffy.
This is bananas. We agree. Still, let's stay safe and keep going.